Whistleblowers accuse NRC of inaction in the face of
potentially catastrophic flood risks at nuclear plants that sit downstream from large dams.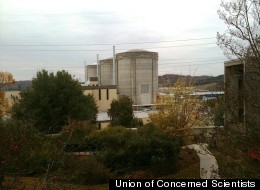 The Oconee Nuclear Station in South Carolina



David Lochbaum, a nuclear engineer and safety advocate with the Union of Concerned Scientists, a Cambridge, Mass.-based advocacy group, calculated that the 34 reactors highlighted in Perkins's analysis are downstream from a total of more than 50 dams -- half of them roughly the size of the Jocassee Dam. "Assuming the NRC's failure rate applies to all of those dams," Lochbaum noted in an
analysis
posted to the group's web site, "the probability that one will fail in the next 40 years is roughly 25 percent -- a 1 in 4 chance."
Taken together, the documents and charges shed new light on an agency that has been
repeatedly criticized
for allowing plant owners to delay crucial safety improvements for years, and for diligently withholding information not as a way of protecting the public interest, but as a way of protecting itself.