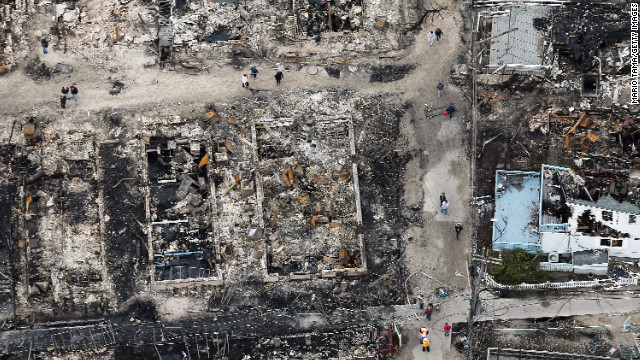 Source: CNN
Sandy's
estimated costs
are $10–$20 billion in insured losses with at least another $50 billion in economic damages.
The
$12 billion in government money
set aside for disaster relief this year will be easily gobbled up in the recovery. Congress will be forced to seek additional money to help effected citizens.
Hurricane Sandy, however, is only one piece of the climate impact puzzle. This year the country has also experienced
record drought
, widespread
wildfires
, and the
worst West Nile virus outbreak
ever.
Munich Re
put the cost of the first six months of 2012's extreme weather events at over $14.5 billion. All of these impacts have required a federal government response.
So, if we are serious about addressing the federal budget crisis, lawmakers need to look at the exploding costs of climate change impacts and how much it will take to better prepare for such events.
The choice Congress will face is who picks up the tab.
The past failure to put price on carbon pollution means that the costs of dealing with these impacts have never been borne by the polluters. Instead, the federal government and taxpayers like you and me foot the bill. The looming fiscal crisis and the costs of climate change demand this equation be changed.
The nation can no longer afford to bail out polluters and foot the bill. Putting a price on carbon pollution will help the fiscal state of the country, drive adoption of clean energy technologies, and place the responsibility of paying for climate change damages on those that cause the problem.