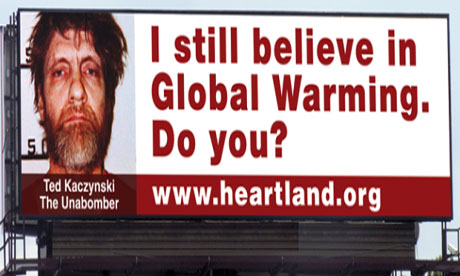 Heartland Institute Billboard in Chicago
WOW: a climate denial 'think' tank is comparing us to mass murders. Fight back
- Bill McKibben
The Heartland Institute says that the people who believe in global warming are no different than serial killers. I know it's hard to believe, but they've actually put up billboards with Charles Manson and the Unabomber to promote their climate-denial campaign. According to Heartland's own documents, corporations like Microsoft, State Farm,
Comcast, GlaxoSmithKline, Farmer's Insurance, Time Warner, Verizon, and Eli Lilly
are supporting the Heartland Institute, an organization that is spreading misinformation about climate change.
[Update: State Farm pulled their support for Heartland today.]
Heartland is a multi-million dollar institution that is behind much of the efforts to cast doubt on climate change in this country. General Motors recently ceased their support of Heartland because of its extreme positions, but other major corporations have refused to budge.
Please join the Forecast the Facts campaign in telling public corporations to cut their funding to Heartland immediately!

Thanks!